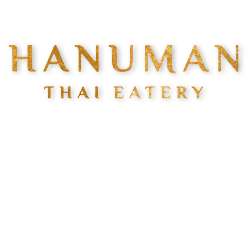 APERITIF
Chicken "Satay"
Grilled Marinated Chicken Tenders Served with Homemade Peanut Sauce and Sweet Pickled Persian Cucumbers
The Son-In-Law's Egg
Deep-Fried Hard-Boiled Egg Topped with Caramelized Tamarind Glaze & Fried Shallots
Green Papaya Salad
Salad with a BANG!!!
"Larb"
Minced Chicken or Pork with 15 Different Ingredients to Create a Delicious Savory Flavor
Thai Sausages
Grilled Northern & North-Eastern Style Thai Sausage Served with Homemade "Jeaw" Sauce
"Crying Tiger"
Grilled Filet Mignon Served with Homemade "Jeaw" Sauce
"Lamb-A-Singh"
Chef Andrew Singh's Special Grilled Lamb Chops with Tangy Sliced Thin Snow Peas Fried Shallots Mixed in Sweet Chili Paste
Hanuman's Ceviche
DEFINITELY A MUST TRY!!! Yellowtail Ceviche Hanuman Style!!!
House Greens
Mixed Green Salad with Homemade Roasted Rice Dressing
Salad "Kheak"
Mixed Green Salad with Sous Vide Chicken Breast & Hard Boiled Egg Served with Homemade Vinaigrette Peanut Dressing
CONSOMMÉ
Tom Yum Koong
Thai Style Creamy Spicy & Sour Soup with Shrimp
Tom Kha Gai
Coconut Sour & Savory Soup with Chicken
Glass Noodle Soup
Chicken Based with Glass Noodle, Ground Pork, Mushroom, Garlic Chives & Green Onion
LONGEVITY
Pad Thai Boran
World's Famous Dish Prepared Traditionally by Our Chefs (Prefix Protein; MAY ADD SHRIMP FOR $3)
Pad See Ew
Flat Rice Noodle & Choice of Protein with Chinese Broccoli Cooked in a Hot Wok with Sweet & Savory Black Soy Sauce
Drunken Noodle/ "Pad Kee Mao"
Flat Rice Noodle & Choice of Protein with White Onions, Tomato and Basil Cooked in Spicy Garlic Chili Sauce
Rad Naa
Choice of Protein in Gravy Sauce and Chinese Broccoli Over Flat Rice Noodle
Street Noodle
Flavorful from Our Homemade Chicken Broth Soup to Create this Popular Noodle Dish of Thailand (Prefix Protein)
Boat Noodle
Rice Noodle with 25 Hours Simmered Broth with Sliced Pork, Pork Meat Balls and Homemade Crispy Pork Bits (Prefix Protein)
MAKE IT RICE!!!
Hanuman's Fried Rice/"Khao Pad"
A Go-To Fried Rice with Sweeten Chinese Sausage and "Esaan" Sausage Cooked with Gailan & Onions
Thai Fried Rice/ "Khao Pad"
Fried Rice with the Choice of Protein and Eggs, Cooked with Gailan & Onions
Shrimp Fried Rice/ "Khao Pad Koong"
Flavorful Shrimp Fried Rice with Eggs, Gailan & Onions Served with Fermented-Salted Egg
Spicy Basil/"Pad Ga Pow Kai Dao"
A Thailand's Staple Food with Minced Wok Fried Chicken or Pork Topped with Sunny-Side-Up Egg (WE WILL USE HOLY BASIL WHEN IN SEASON)
"GAANG" OR CURRY
"Karee"
Commonly Known as Yellow Curry Cooked with Red & White Rose Potatoes and Carrots
"Panang"
Spicy Lead Flavor Curry with a Hint of Nutty Taste Cooked with Shelled Edamame then Topped with Red Chili
Green
Central Thai Favorite Curry Infused with Many Herbs & Spices
"Massaman"
Sour Lead Flavor Curry Follow with Salty &Sweet
HANUMAN'S SPECIALTIES
"Gai Todd Hat Yai"
Chef Jenny's Hometown Famous Street Food of Fried Chicken and Sticky Rice with House Recipe Dipping Sauce & Fried
"Khao Soi"
Myanmar Influence Dish of Creamy Curry Broth Over Egg Noodle Topped with Crispy Noodle Served with Curry Stewed Chicken Drumstick
Sweet & Sour Salmon (Triple "S")
Our Signature Sweet & Sour Sauce with Grilled Canadian Salmon Served Along with White Rice
IMPORTS
Singha ABV. 5%
Origin: Thailand
Chang ABV. 5%
Origin: Thailand
Leo ABV. 5%
Origin: Thailand
Beerlao ABV. 5%
Origin: Laos
Beerlao (DARK) ABV. 5%
Origin: Laos
Angkor ABV. 5%
Origin: Cambodia
Myanmar ABV. 5%
Origin: Mayanmar
DOMESTIC CRAFTS
Tom Yum Beer ABV. 5%
Brewery: 7 Bangkok; Monrovia, California
Abita Purple Haze ABV. 4.2%
Brewery: Abita Brewing Co.; Covington, Louisiana
Allagash White ABV. 5.2%
Brewery: Allagash Brewing Co.; Portland, Maine - Type: Belgian
Anderson Valley Boont Amber ABV. 5.8%
Brewery: Anderson Valley Brewing Co.; Boonville, CA
Shipyard Monkey Fist IPA ABV. 6%
Brewery: Shipyard Brewing Co.; Portland, Maine
North Coast Old Rasputin ABV. 9%
Brewery: North Coast Brewing Co.; Fort Bragg, CA
WINES
Bottle of Friends White
A Blend of Sauvignon Blanc and Gewurztraminer 2019 Sonoma County, California
Bottle of J. Lohr Riesling
2019 Arroyo Seco Monterey, California
Bottle of Leese-Fitch Chardonnay
2019 California
Bottle of Campuget Rosé
2019 France
Bottle of Old Soul Petite Sirah
2017 Lodi, California
Bottle of Chateau Souverain Pinot Noir
2018 California
Bottle of Alamos Malbec
2018 Mendoza, Argentina
SAKE
Kubota
Junmai DaiGinjyo Since 1985, Niigata, Japan
Opening Hours
Tuesday
3:00 pm - 10:00 pm
Wednesday
3:00 pm - 10:00 pm
Thursday
3:00 pm - 10:00 pm
Saturday
3:00 pm - 10:00 pm
Location
1835 Newport Boulevard, Costa Mesa, California 92627, United States